When the glamourai first blogged about her new idea for anklets I was immediately hooked.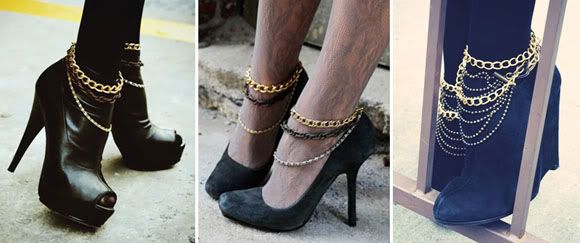 I was tempted to buy a pair from her wonderful etsy store, but decided to try and figure it out for myself. I think they turned out very cute! (And they were incredibly easy to make.)
Materials:
*lots of different chains (I bought mine from Joanns, but you could definitely use vintage)
*pliers
*wire cutters
*closures (also from Joanns)
This project took about 10 minutes, probably less. I measured out chain, cut two pieces to that length (for each foot) and made them slightly varying lengths so they'd fall nicely. Then I used a jump ring to catch all the chains along with my clasp, and closed it tightly with the pliers. Voila!
I lost my photographer midway through this photoshoot and had to get a little creative. But I wanted to show how versatile these are. I tried them with two different boots (black and brown) and my favorite black heels (from Ann Taylor. I am not kidding.)
Wearing: Ann Taylor pumps, diy anklets, assets tights
Wearing: Stuart Weitzman 50/50 boots, diy anklets
Wearing: old (very) brown boots, assets tights, diy anklets, zoe dress, jcrew cardigan