I love Game of Thrones. I read all the books, I've watched the HBO series, I've heatedly discussed plot points with fellow fans while others look on in dismay. I came across this beautiful skirt on
BleachBlack
the other day and pinned it. I was trying to justify buying it (it's perfect for the Elizabethan Club's upcoming spring party! and I can wear it all summer!) when I realized it reminded me of my favorite character on GoT,
Daenerys Targaryen
. I won't go into all the details and simply say that apart from being a badass she also has the best clothes.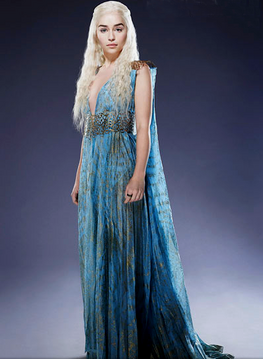 It's hard to find full length pictures of the costumes, but this is a good example. She gets to wear a lot of light silks, while the rest of the characters are stuck in the North and have to wear heavy furs.
Daenerys would probably wear the skirt with a some crazy half bra/half shirt thing, but I think a loose white tank would work better in the real world.
Image via bleachblack, skirt, $98 from I Don't Like Mondays
OK done with my embarrassing fan post for the day, back to regularly scheduled programming. I'm working on a city guide to New Haven which should be up by the end of the week!