Another gorgeous day! I was thinking about the winter and realized that I wore a lot of black. So this spring and summer are going to be all about colors and white. The dress I'm wearing today is a gorgeous red, but unfortunately it's difficult to capture in photographs. It turns out kind of orange.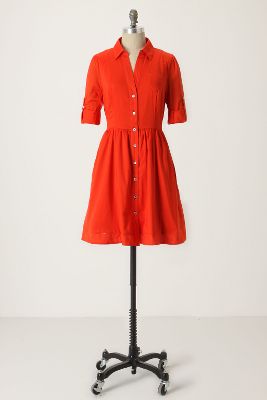 Reed shirtdress, from anthropologie
Wearing anthropologie shirtdress, sergio rossi pumps
I have a busy weekend ahead of me with a birthday (happy birthday L!) and a bunch of shows. R and I are also planning a double date to
Miya's
which is a famous sushi place here in New Haven. I'll try and take some pictures, because honestly, you've never had sushi quite like this.